Canada: British Columbia - Campbell River Clearcut Site
Latitude: 49.870500
Longitude: -125.290900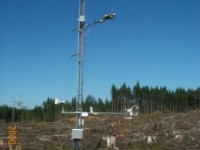 Network: Canadian Carbon Program

Principal investigator: Nicholas Coops

PI-affiliated institution: University of British Columbia

Primary IGBP ecosystem type: Evergreen Needleleaf Forests


Dominant plant functional type: Evergreen needleleaf trees

Recent and historic disturbance and management events that may affect this site:

Clearcutting in the year 2000

Flux data collection:

Start date: August 2000


End date: 2013

Flux methods:

Optical data collection:

Start date: January 2006


End date: 2013

Data scale: Stand

Collection methods: Tower

Types of data collected: PAR, PYR

Publications:

Hilker T, Coops NC, Schwalm CR, Jassal RP, Black TA, Krishnan P. Effects of mutual shading of tree crowns on prediction of photosynthetic light-use efficiency in a coastal Douglas-fir forest. Tree physiology. 2008 Jun 1;28(6):825-34.

Wang Z, Grant RF, Arain MA, Chen BN, Coops N, Hember R, Kurz WA, Price DT, Stinson G, Trofymow JA, Yeluripati J. Evaluating weather effects on interannual variation in net ecosystem productivity of a coastal temperate forest landscape: a model intercomparison. Ecological Modelling. 2011 Sep 10;222(17):3236-49.

Paul-Limoges E, Christen A, Coops NC, Black TA, Trofymow JA. Estimation of aerodynamic roughness of a harvested Douglas-fir forest using airborne LiDAR. Remote sensing of environment. 2013 Sep 1;136:225-33.

Paul-Limoges E, Black TA, Christen A, Nesic Z, Jassal RS. Effect of clearcut harvesting on the carbon balance of a Douglas-fir forest. Agricultural and Forest Meteorology. 2015 Apr 15;203:30-42.
Flux data repository: ftp://daac.ornl.gov/data/fluxnet/fluxnet_canada/data/BC-HarvestDFir2000/