Senegal: Dahra
Latitude: 15.402828
Longitude: -15.432283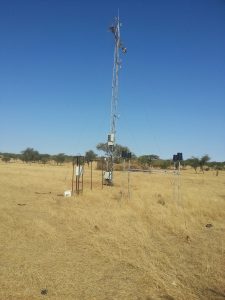 Network: CarboAfrica

Principal investigator: Torbern Tagesson

PI-affiliated institution: University of Copenhagen

Primary IGBP ecosystem type: Savannas

Dominant plant functional type: Grass


Recent and historic disturbance and management events that may affect this site:

Drought: Prolonged water deficiency; hydrologic or climatic drought

Fire: Wildfire or managed burns

Grazing: Herbivory or browsing by mammals, managed or wild

Temperature extreme: Heat wave or freeze

Flux data collection:

Start date: August 2010

End date: Ongoing


Flux methods:

Eddy covariance, gradients,


Optical data collection:

Start date: July 2011

End date: Ongoing


Data collection period: Continuous operation: Variable collected continuously with the reported method.

Data scale: Stand

Collection methods: Tower

Types of data collected: Albedo (Incoming and outoging short wave radiation), fAPAR (Incoming, outgoing and transmitted PAR), fIPAR (Incoming, outgoing and transmitted PAR), NDVI (Hemishpherical, 25º FOV, and 60ºVOF, pointing Nadir,and at 15 and 45º east and west), PAR (Incoming, outgoing and transmitted PAR), PRI (at 12.5 m height hemispherical incoming and with 25º FOV at nadir), Relative humidity (At 2, 5, 9 and 12 m height), Spectral reflectance (ASD 350-1800 nm), Canopy temperature (Destructive biomass sampling), Leaf temperature (Raytek and Apogee sensors)


Publications
Tagesson T, Fensholt R, Guiro I, Rasmussen MO, Huber S, Mbow C, Garcia M, Horion S, Sandholt I, Holm‐Rasmussen B, Göttsche FM. Ecosystem properties of semiarid savanna grassland in West Africa and its relationship with environmental variability. Global change biology. 2015 Jan;21(1):250-64.

Tagesson T, Fensholt R, Huber S, Horion S, Guiro I, Ehammer A, Ardö J. Deriving seasonal dynamics in ecosystem properties of semi-arid savanna grasslands from in situ-based hyperspectral reflectance. Biogeosciences. 2015 Aug 5;12(15):4621-35.

Huber S, Tagesson T, Fensholt R. An automated field spectrometer system for studying VIS, NIR and SWIR anisotropy for semi-arid savanna. Remote Sensing of Environment. 2014 Sep 1;152:547-56.

Tagesson T, Fensholt R, Cropley F, Guiro I, Horion S, Ehammer A, Ardö J. Dynamics in carbon exchange fluxes for a grazed semi-arid savanna ecosystem in West Africa. Agriculture, Ecosystems & Environment. 2015 Jul 1;205:15-24.
Uploaded information: The Dahra Test Site, Senegal. Overview of Dahra research (pdf)
External home page: http://www.europe-fluxdata.eu/home/site-details?id=SN-Dhr
Data download: http://www.europe-fluxdata.eu/home/site-details?id=SN-Dhr